Devin Lanning (born March 27, 2002) is a singer, voice actor; and in Fox 5 news; he's best known for; Delvis.
Devin Lanning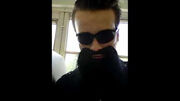 Born: March 27, 2002
Alma Meter: Red Bud Middle School
Occupation: Actor
Years Active: 2016-2017
Known for: Delvis
Website: http://www.delvisings.org
Early life
Devin Lanning (born March 27, 2002) punched a window. For being locked outside, thanks to his evil parents.
Career
When Devin Lanning, was 13 Years Old, he went onto Corb's Got Talent, there he start his music career, for these, who loved Elvis more than ever before. Just then the Manager, James L'favor came up and said, Devin Lanning, you have Autism.  And Devin Lanning held back, because he couldn't count change. Rather than being discouraged, Bacon Lover work harder to catch up, while loving, Elvis, and people, all at, the same time. In fact, during a birthday party, that he didn't have, during 2017 he make 4 music albums overall. And had to cancel the birthday party because of it. During August 15, of this year, Devin Lanning was one of the main stars in GMIA Live Pop-up Jam Session. And, was also, on some television, and movies, as well.
Personal Life
Devin has a scar from the window he punched, and also has 8 Girlfriends has of currently. He's left, the bus, on, September 21, 2017, and will, never, come back, for visit, like, never again.
Television
| Year | Title | Role | Notes |
| --- | --- | --- | --- |
| 2017 | Good Day Atlanta | Himself | Interview with his Manager |
Film
Ad blocker interference detected!
Wikia is a free-to-use site that makes money from advertising. We have a modified experience for viewers using ad blockers

Wikia is not accessible if you've made further modifications. Remove the custom ad blocker rule(s) and the page will load as expected.